About Chef Jay Donahue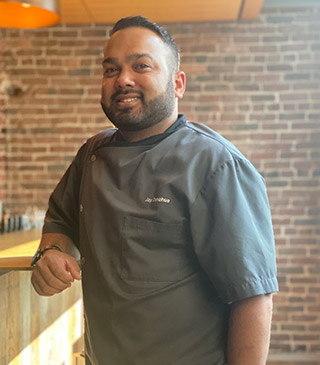 Chef Jay Donahue brings over 18 years of experience to his role as Executive Chef at Shaker + Spear. Born in India and raised in Vermont after being adopted by his loving family, his interest in a culinary career was born early on, inspired by a summer job as a bus boy and the elaborate feasts his grandmother prepared for his family each holiday season.
After graduating from the Culinary Institute of America in 2010, Chef Jay continued his career at John's Island Club in Vero Beach, Florida. Ranked seventh in the country for private country clubs at the time, it was there that his culinary skills flourished, executing banquets of up to 1,700 people, overseeing private wine dinners with prestigious brands like Opus One and Stag's Leap, and having the opportunity to cook for various politicians, prime ministers, and other foreign political figures.
Following his time at John's Island Club, Chef Jay served as a Sous Chef within reputable kitchens in Vero Beach, including Gloria Estefan's AAA Four Diamond Costa d'Este Beach Resort & Spa where he developed private, four-course beer dinners with Brooklyn Brewery and Sierra Nevada Brewing Co. He then moved to Seattle in 2013 to join Marriott Hotels. Serving as Kitchen Supervisor, he extended his skills to multiple outlets, including the hotel's restaurant, banquets, and in-room dining. Shortly after his move to Washington, Chef Jay relocated to Denver with Marriott Hotels, serving as Sous Chef at Denver Marriott City Center. In this role, he developed and executed over a dozen menus within his first 6 months on property and launched Marriot's "Fresh Bites" room service program. Under his leadership, the hotel was ranked #3 for Food and Beverage amongst Marriott Convention Centers in 2016.
In 2017, Chef Jay joined Kimpton Hotels & Restaurants as opening Banquet Chef for Hotel Born in Denver, Colorado, where he honed his seafood and butchery skills under the mentorship of Executive Chef Christian Graves. Later, Chef Jay served as a Task Force Executive Sous Chef and Assistant General Manager for Kimpton Hotels & Restaurants, successfully opening three properties and creating an atmosphere where his team enjoyed their work while fostering culinary skills.
As Executive Chef of Shaker + Spear, Chef Jay is looking forward to refining the menu to create coastal cuisine prepared with local, sustainable ingredients. Guests can look forward to new offerings focused on seasonal seafood, innovative programming, as well as a chef's counter dining experience featuring arotating menu highlighting trending, seasonal dishes.